Following the Australian Crypto Convention, Senator Bragg expressed his frustration with the apparent lack of progress in crypto regulations by the current Federal Government.
He took the opportunity to announce to the Conference that he released a private member's bill that proposes to regulate crypto exchanges and stablecoin issuers as well as place disclosure duties on banks dealing with digital yuan in Australia.
In summary:
• This Bill was released by Senator Andrew Bragg (Liberal Senator for NSW) on 19th September 2022.
• The Bill (if enacted in its current form) requires a person or entity to hold a licence to:
operate a digital asset exchange (i.e., a facility through which one or more of the following kinds of exchanges are regularly made

(a) exchanges of digital assets for currency;
(b) exchanges of digital assets for other digital assets;
(c) exchanges of currency for digital assets);
provide a digital asset custody service (i.e. a service that relates to the safekeeping, servicing or management of a digital asset); or
issue stablecoins (i.e., a digital asset that is designed to maintain a stable value relative to a particular unit of account or store of value).
• There will be an electronic and publicly available register relating to licenses.
• The Bill sets out additional licence requirements that accompany the operation of a digital asset exchange, provision of a digital asset custody service or the issuance of a Stablecoin (e.g. minimum capital requirements, cyber security, record keeping, quarterly statements to APRA, development of a tailored plan to protect persons holding Stablecoins etc).
• The Bill requires certain banks to comply with reporting requirements if the relevant bank has facilitated the availability or use of Digital Yuan within a 12-month period. "Digital Yuan" refers to China's new "e-CNY", which is a digital version of the Yuan currently being piloted in China. It is one of the only central bank digital currencies offered by a major economy.
• The Bill prescribes "Digital Yuan Reporting Requirements" which include requirements for the reporting of:
The number of Australian businesses that have accepted payments using digital Yuan that are facilitated by the designated bank;
The number of open digital wallets for Australian customers of the designated bank; and
The total amount of digital Yuan held in digital wallets.
• Consultation on the Bill is open to the public until 31 October 2022. Senator Bragg will introduce the Bill when parliament next sits.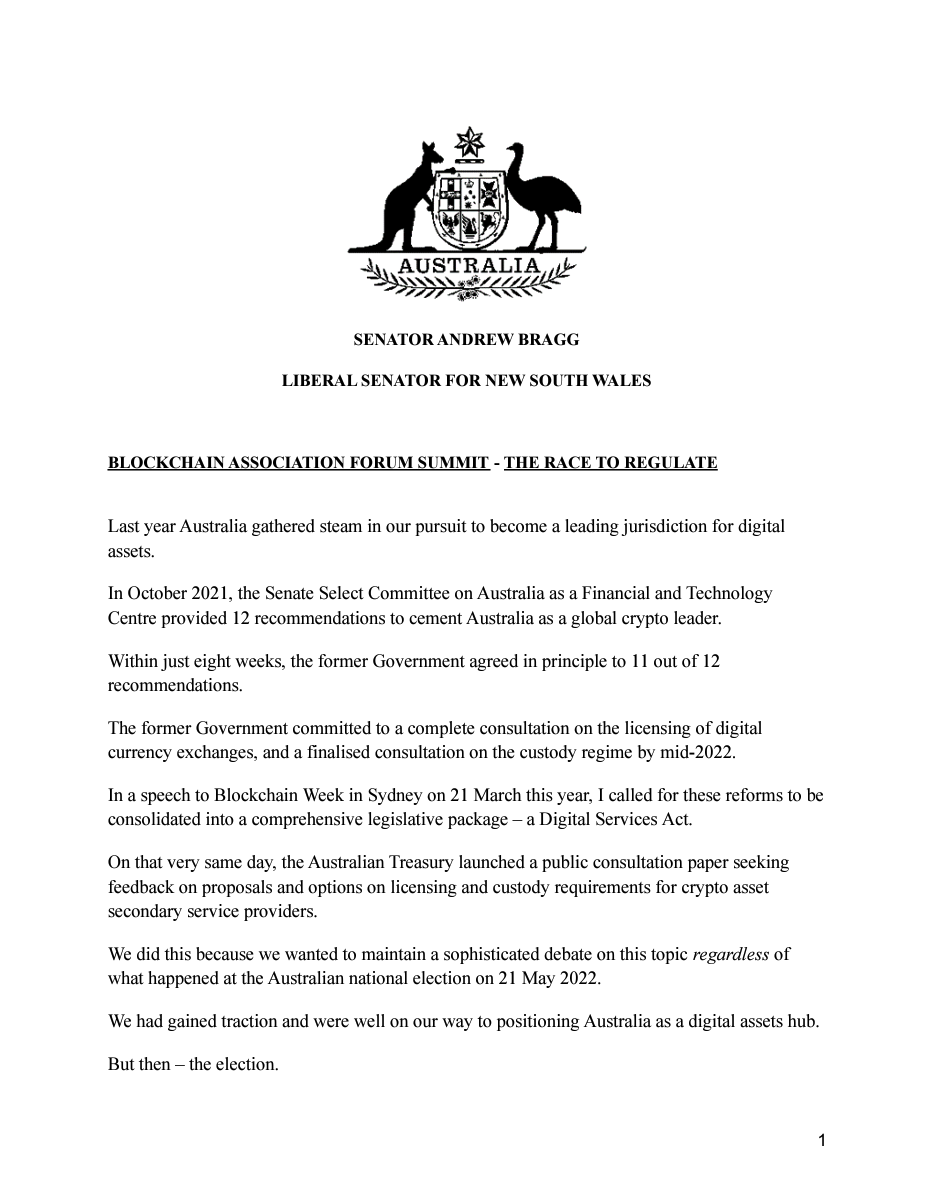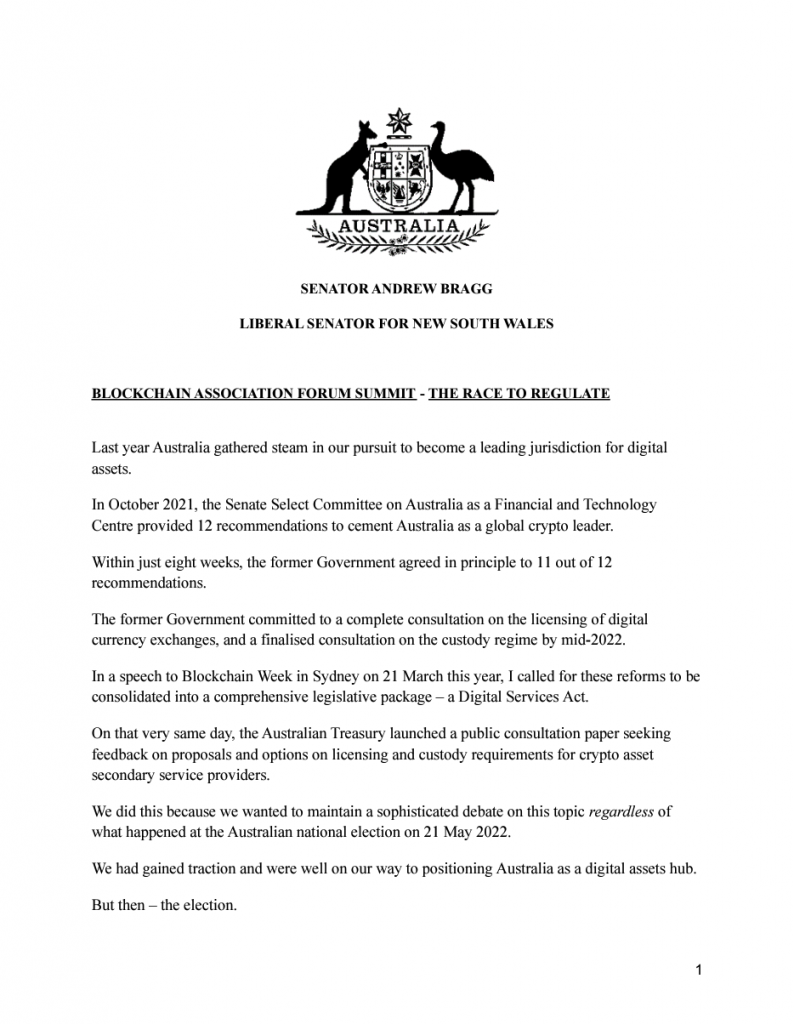 BLOCKCHAIN ASSOCIATION FORUM SUMMIT
– THE RACE TO REGULATE
Media Release, Speeches